Description
Cabaret Mechanical Theatre are delighted to be running this popular course for the 10th time.
This six week programme has been designed to explore the combination of art and engineering. The classes will be led by experienced facilitator Ryan Jenkins from Wonderful Idea Co. and supported by Loulou Cousin & a small team of international educators who will guide you through a variety of mediums and practical elements building several automata prototypes.
Through the online workshops you will become part of a community of makers with virtual visits to Cabaret Mechanical Theatre artists' studios, access to exclusive artist interviews and opportunities to discover and meet emerging international automata artists.
As part of your registration you will receive by post a specially designed Automata Tinkering Global Workshop Kit before the sessions begin.
The kit will include:
All shipping costs are included in the course fee.
"I absolutely loved this. The kits were so well considered and complete, well done on those. Your friendly expertise had me learning enthusiastically in leaps and bounds, can't believe how much progress I made in mere weeks. I feel I have an excellent foundation to press on with this excellent oddball pursuit. Thanks, team!" Kathryn R, October 2023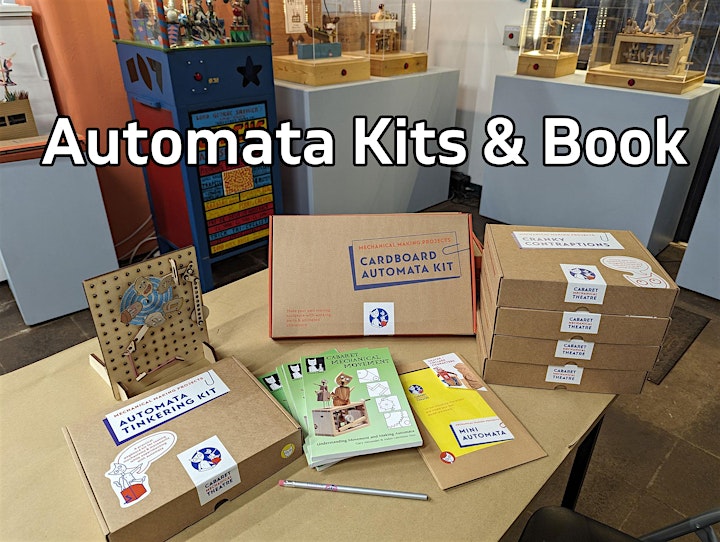 WHEN
Wednesdays from 18th September to 23rd October 2024
4-6 pm UK BST,
8-10am PT,
5-7pm in Europe CET
WHO
This workshop is suitable for all abilities and experience levels if you are comfortable developing your own creative ideas and experimenting with us.
It is perfect for you if:
You want to find out more about automata, who makes them and how they are built
You are an educator who wants to inspire adults and children with tinkering or STEAM (science, technology, engineering, arts & maths) activities
You are a practicing artist who wants to experiment with building kinetic sculptures
You work on personal projects in your spare time and want to add a new medium for expression
You are interested in engaging with a group of practitioners in different fields
We generally limit the age to 16 years old+ though exceptions can be made where appropriate.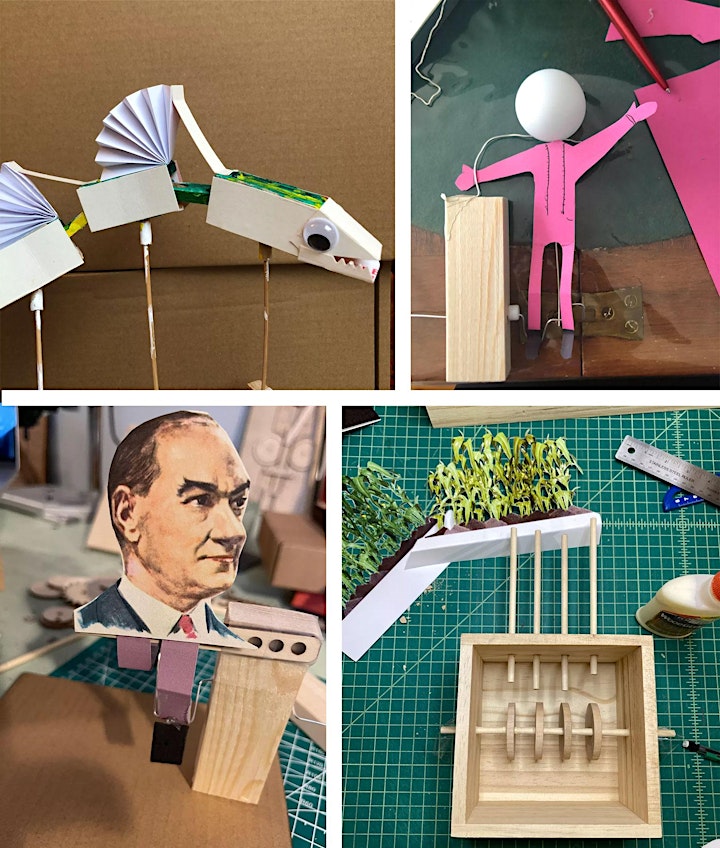 EQUIPMENT
You will need:
a computer with a good internet connection,
a place to work (kitchen table, workshop, garage)
the ability to procure a set of common household materials from a provided list.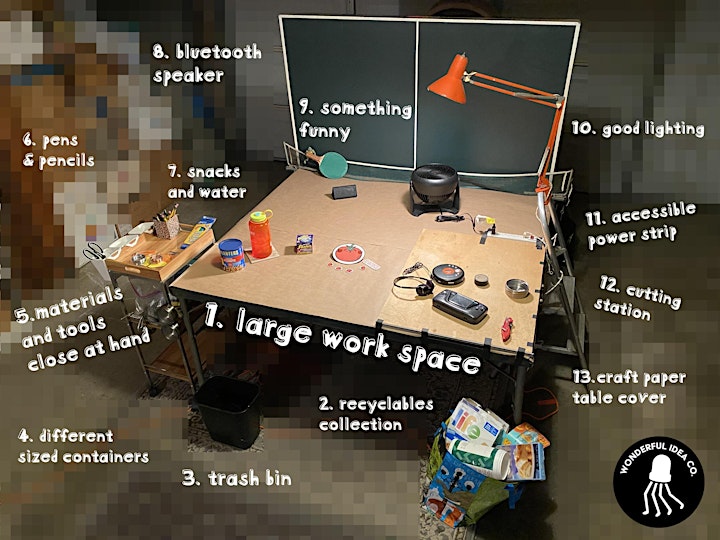 Course Outline
The workshop will be conducted in spoken English with audiovisual materials such as slides, examples and video. All classes will be held over Zoom.
The course is being delivered as a real-time class, where participants and facilitators will interact live. The maximum number of participants will be 24, to ensure a low facilitator to participant ratio. We will combine working as a group and in smaller break-out sessions so you will also have personalised attention and interaction.
The sessions are recorded for later viewing and a week by week online resource is available to all participants that documents each session with practical advice and tips.
We recommend setting aside some time between classes to play and experiment with the different things you will learn each week.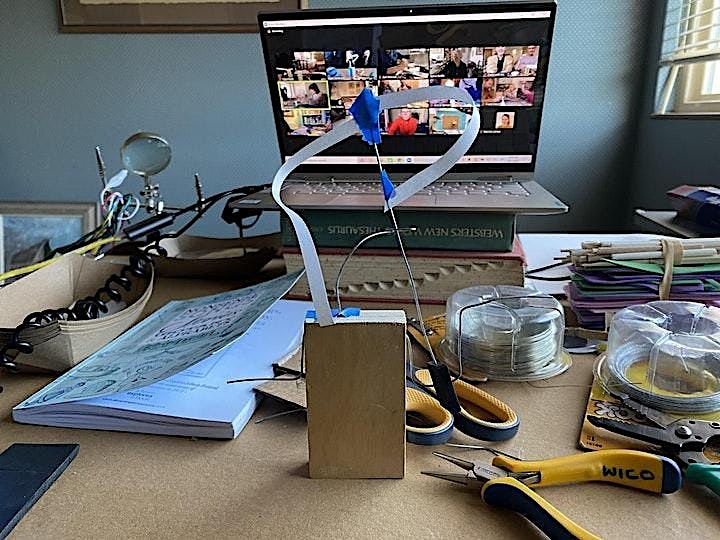 Workshops content
Wednesday 18th September – Week One
Welcome and Introductions – What is automata? – Brief history of Cabaret Mechanical Theatre
Practical Session: Cranky Contraptions
Wednesday 25th September – Week Two
Cams and Drives – Engineering Principles
Practical Session: Cardboard Automata Kit with Stephen Guy
Wednesday 2nd October– Week Three
Artist Studio Tour
Testing and Troubleshooting – Experimenting with Linkages
Practical Session: Mini Automata Kit with Loulou Cousin
Wednesday 9th October – Week Four
Artist Studio Tour
Further Mechanisms
Practical Session: Prototyping with The Automata Tinkering Kit
Wednesday 16th October – Week Five
Artist Studio Tour
Design Process – Expanded Materials
Practical Session: Personal Automata Exploration
Wednesday 23rd October – Week Six
Experimental Extensions – Reflection and Sharing – Taking it Further
Practical Session: Personal Automata Exploration.
Artist Studio Tours
Throughout the course you will virtually visit a variety of artists working with automata and kinetic sculpture. They will show you their design processes, favourite tools and materials and works in progress. You will be able to ask questions and get expert tips!
Previous artists have included Paul Spooner, Lisa Slater, Carlos Zapata, Martin Smith, Aaron Kramer (Urban Objects), Fi Henshall, Tim Hunkin & Federico Tobin (Wolfcat Workshop).
About our course facilitator Wonderful Idea Co:
Ryan Jenkins of Wonderful Idea Co, will be leading this workshop.
Wonderful Idea Co. is a creative design studio founded in 2017 by Ryan Jenkins and Nicole Catrett that develops resources to support the exploration of art science and technology through making and tinkering. They have led workshops around the world for hundreds of creative educators.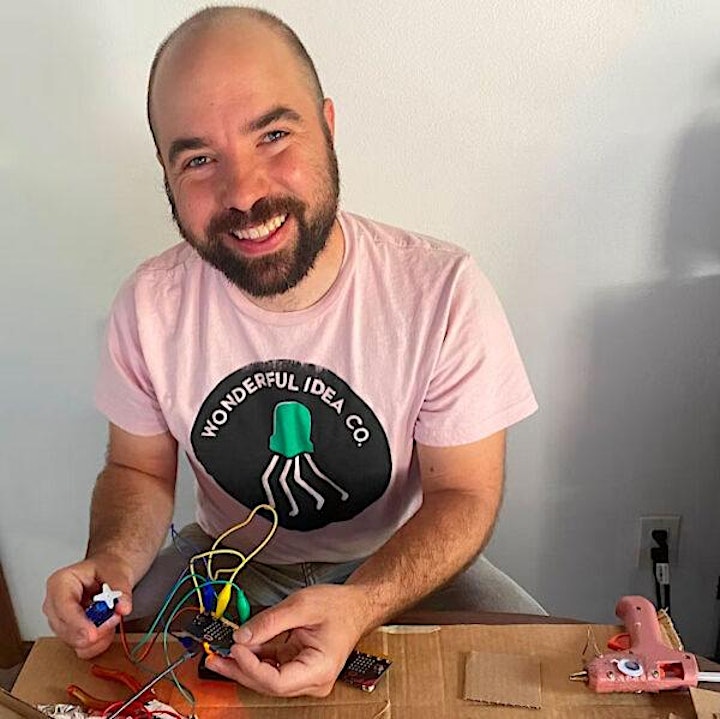 Price:
Super Early Bird until 31st December 2023 – £345
Early Bird until May 31st 2024 – £395
Full Price until 26th August 2024 – £445
Registration closes 26th August 2024 to allow time for materials to be sent to participants.
We will be offering a limited number of partial scholarships for those in need of a fee reduction. We are especially interested in participants who come from non traditional backgrounds and/or who work with underrepresented audiences.
You can apply for a scholarship by emailing max@cabaret.co.uk with a short description of why you are interested in attending. We regret that we will not be able to offer a fee reduction to everyone but hope to pursue other funding options for future online/in-person sessions.
Feedback from Previous Courses
***** A joyful experience, well executed by professional creative educators, to jump start us in joy generation through our own automata. The guest artists were so inspiring and generous in sharing their knowledge, the facilitators were also talented and great guides, and the kits provided a facile way to start us on our automata journey. The community of likewise impassioned students across the globe were also a great asset to push each other and share learnings. Although I wish I had more personal time to work on the projects between sessions, I wouldn't change the format of a session each across 6 weeks.
Zoe P, March 2023
As I'm not a maker or someone who considers themselves in any way an artist, I was a little nervous to take this course. It's also the first time in years I've taken a course that wasn't related to work. Within five minutes of the first class I realised I had nothing to worry about. Everybody — the staff, the guest artists and the other participants were incredibly welcoming and inclusive. Even when i was in a group with people who'd clearly been making art for decades, I felt fully part of the group and included. The course itself is WONDERFUL, the steps to making different kinds of automata are so simple that after just one class, I found myself making extra automata not designated by the course! I'm so happy to have this new artform in my life, and I'm so grateful to have learned about it in such a warm and friendly environment.
Marsha S, March 2023
This was an extremely well thought out workshop. The facilitators, the guest speakers and the other participants had a wide range of interests, skillsets and approaches and everyone was incredibly generous with their information. People who are interested in Automata are a fun group!
I could not have been happier with this class.
Andrea R, March 2023
As a novice in creating automata, I found the course to be an engaging and fun way to jump in and start making things. It was endlessly fascinating to see the ideas my classmates and I came up with. I learned a lot in the class, but I also got a glimpse at how much I could do if I kept on learning after it was over. I would take this or another Cabaret class again in a heartbeat.
Russel S, March 2023
The biggest takeaway for me … was being inspired by just simple movements. We work a lot with young children and complexity is great but it's great just to see small simple movement and the joy and surprise that can come out of that.
The best part was the collaborative and open-ended nature of the workshop. The internet allows plenty of information and technical details, and the book was great. But just talking to someone and getting feedback or new ideas was great.
Thank you for this wonderful experience. And – curse you for giving me yet another hobby. I won't be able to quit making these now.
Scott N
My takeaway was that it's really really good to get out of your comfort zone and stretch yourself with new ideas. And the whole mechanics part of it made me very uncomfortable to start but now I'm like 'I can do this, I can figure this out!'
Terri F
I just really liked being able to have feedback and talk with everybody. I think that's what i really liked the most about the course. I loved the introduction of all the different materials because I hadn't really thought about working with some of the wire or some of the more complex mechanisms … To have a whole group of people who are really passionate about automata from all different backgrounds has just been fabulous.
Liz M
I think just learning to work with new materials and getting inspired by everyone's ideas, that was key for me. I've only worked with the mechanical equipment side of things and just the way you can use all of these simple things like cardstock and wood to make these little stories that you can tell everyone, that was really inspiring. I'm hoping to continue that.
Abhi K
I think the biggest thing I took is that it's ok to mess up and have a lot of problems starting making things. Starting to experiment and be ok with making a mess was very new to me!
Thank you all for a wonderful experience! I learned a lot.
Deval S