A hands-on 6 week automata making online workshop for curious and inventive makers exploring mechanisms & low-tech kinetic engineered art.
Tickets are available on EventBrite
About this event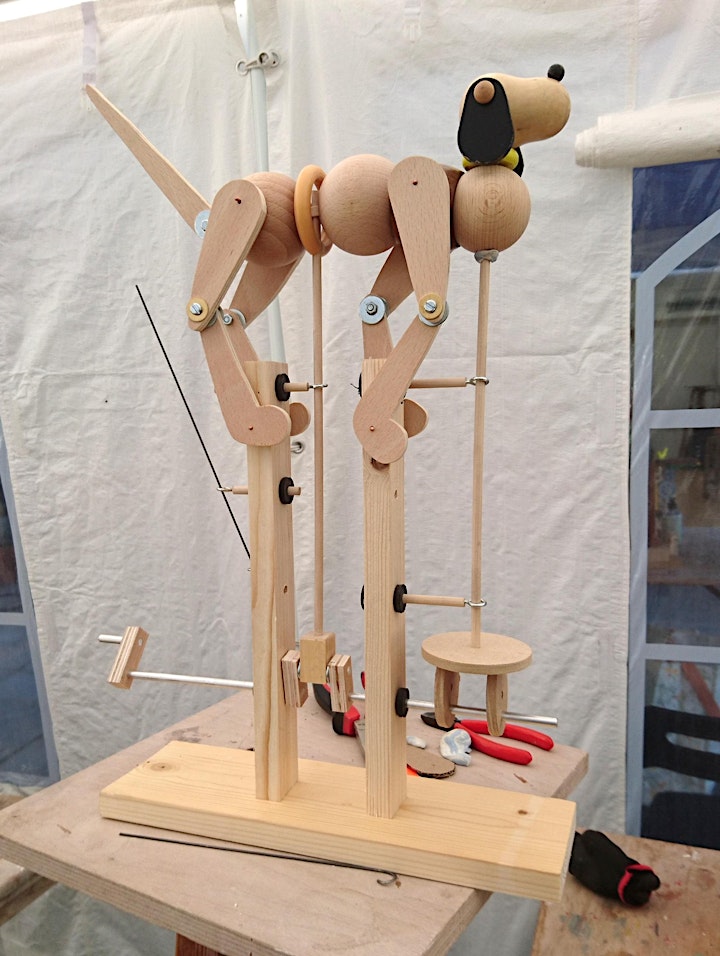 Description
Cabaret Mechanical Theatre is thrilled to be able to offer this pilot of a new automata making online workshop, and that there continues to be a huge appetite for sharing and making online since we first launched our online workshops in 2020. It's so exciting to be able to take this tried and tested workshop that we have been delivering in-person since 2013 and to develop it into an online version – Fabricating Motion – to share with our community of makers from around the world.
Tutor and automata-maker Stephen Guy will guide you through how to accurately construct core mechanisms and how they can be applied to create simple and playful kinetic designs. Starting with the Fabricating Motion kit and construction materials that will be sent to you ahead of the workshop, you will be supported to explore and develop your own automata projects.
Workshop Content
In the first four workshops we will look at particular types of mechanisms and constructing methods in detail. We will also experiment with materials, found objects and your own designs to explore how you can capture the creative potential of the mechanical movements. You are encouraged to test and play around with the mechanisms and materials between each session and share your discoveries. In the final two workshops you will create and construct your own machine with help from Steve.
WEEK ONE – Tuesday 11 October
Factors to consider when automata-making, including useful tools and extra materials you may need.
Design of the support structure
Driving mechanisms: crankshaft, cams, gears, drive wheels
Axis/plane of rotation and ways to change it
Gearing ratios of handle to shaft(s)
One shaft or more shafts?
What kind of linkages may be required? (transferring movement from one component to another).
Friction or positive drives (how important is precise timing of components?)
Weight/load
Drilling accurate holes
Sequence of assembly
How to get a mechanism to return to its original position
How to connect another shaft
How to keep a shaft in position
Practical work: Assemble the kit and think about it in terms of the above points.
Homework: Play around with the kit including making simple designs.
WEEK TWO – Tuesday 18 October
Precision Control – introducing cams
Types of cam
Cam followers
Ways to stop a cam from spinning
Controlling the movement of cams
Practical work: Experiment with making different types and shapes of cams.
Homework: Continue to work on cams and simple designs ideas.
WEEK THREE – Tuesday 25 October
Power Transmission – shafts, cranks, connecting rods and gearing ratios
What are cranks, shafts and connecting rods ?
Speed ratios
What you can do with a crank and shaft
Ways of constructing cranks and connecting rods
Adding another shaft
Homework: Continue to work on these, and simple design ideas.
WEEK FOUR – Tuesday 1 November
Other linkages and changing the plane of rotation
Increasing the complexity of the machine
Methods of introducing new planes of rotation – bevel gears, pin wheels, linkages.
Homework: Continue to work on your mechanism(s) and simple design ideas.
WEEK FIVE – Tuesday 8 November
Start constructing your own machine, discuss ideas.
Homework: Continue with your project.
WEEK SIX – Tuesday 15 November
Continue constructing your own machine, discussion of progress and troubleshooting.
Final appraisal of how the course went, what we learned and future project ideas.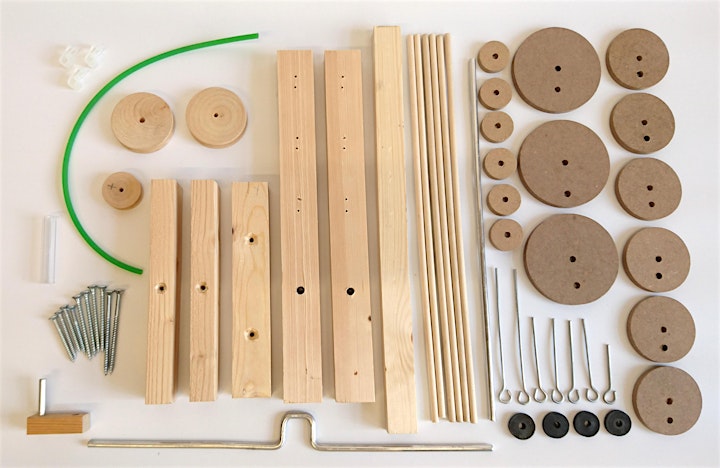 PRACTICAL INFORMATION
The online course is being delivered as a real-time class, where participants and facilitators will interact live. The maximum number of participants will be 10, to ensure a low facilitator to participant ratio.
The sessions are recorded for later viewing and a week-by-week online resource is available to all participants that documents each session with practical advice and tips.
The workshop will be conducted in spoken English with audiovisual materials such as slides, examples and video. All classes will be held over Zoom.
You will need a computer with a good internet connection and a place to work (kitchen table, workshop, garage).
WHO?
This course is for people with reasonably good woodworking and constructing skills, perhaps access to a workshop but certainly access to workshop tools, ideally such as a band and scroll saw, pillar/bench drill, and hand tools.
However, it will be informal, hands-on and relaxed so be ready for some fun.
We generally limit the age to 16 years old+ though exceptions can be made where appropriate.
WHEN?
Every Tuesday from 11 October to 15 November 2022
4pm-6pm GMT/BST
8-10am PT
5-7pm CET
WHAT?
As part of your registration you will receive by post a specially designed Fabricating Motion Workshop Kit before the sessions begin. The kit provides everything you need to get started in the workshop, however the suggested materials list will enable you to develop the scope and complexity of the mechanisms. The kit includes:
wood frame
metal crankshaft
dowel shafts
MDF drive wheels/cams
screws and wire supports
YOU WILL NEED:
Access to some key tools:
Cross head screwdriver (essential for Week One)
Small/medium pliers (essential for Week One)
Wire clippers suitable for 2mm wire
Ideally a pillar/bench drill, or at least a power hand drill
Drill bits: 6mm, 4.9mm, 3mm, 2.5mm, 2mm (or Imperial equivalents)
Ideally a band and scroll saw, chop saw, or at least handsaws
Hacksaw for cutting alloy rod
Wire clippers for 2mm wire
Craft knife
Larger pliers (for bending 5mm ally rod)
Soldering iron (for bonding drive belts)
Glues – superglue, PVA, general crafting
For creating stories, characters and designs:
assortment of selected objects, junk, toys, curiosities
assortment of card, your preferred art/craft materials
materials you enjoy working with
Suggested extra materials (partly depends on the requirements of your own design):
Small sheet of 6mm MDF or similar (for cutting out cams)
Odd bits of wood/plywood/MDF (for making cranks, general use)
Thread/string
Barbecue sticks
Wire (around 1.6mm for linkages, plus a drill for a hole that provides a tight fit)
PRICE
Early Bird until 19 Aug 2022 £425.00
Full Price until 18 September 2022 £475.00
Tickets are available on EventBrite
Registration closes 18 September 2022 to allow for materials to be sent to participants.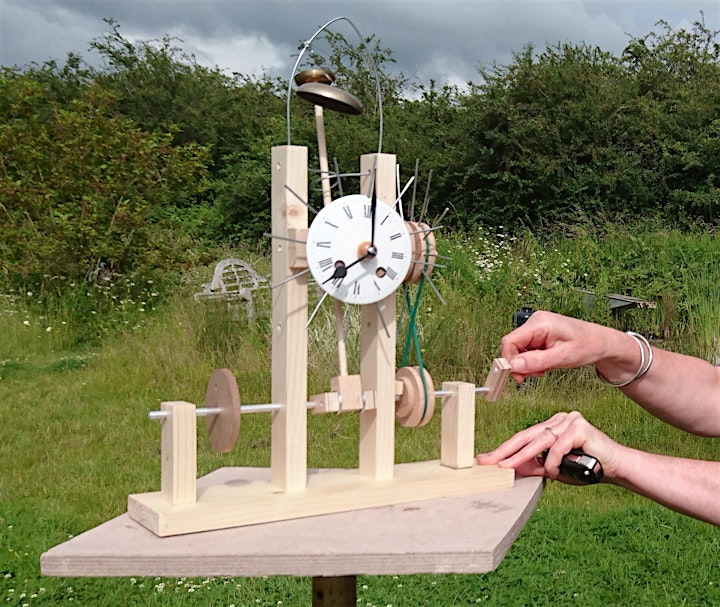 ABOUT STEPHEN GUY
Stephen is a designer-maker and artist specialising in mechanical art. He generally works as Fire the Inventor and runs workshops, events and produces educational resources, and builds interactive automata for exhibitions, science festivals and schools in the UK and around the world.
His creative process is bricolage and hands-on prototyping. Much of his time is spent hunting down curious objects, components and toys, which are categorised and stored as a library of resources. The creative process is about composition, about finding striking, funny or weird juxtapositions of objects, adapting and hacking them, and constructing mechanisms that heighten the visual impact of the sculpture.
His first introduction to automata and the world of mechanically driven entertainment was at Cabaret Mechanical Theatre when we were in Covent Garden from 1985 and has continued to collaborate with us since then.
Recent workshops and events have been run with Sligo Engineering Fair, West Dean College, Hauser & Wirth (Somerset), the Institute of Physics, Tower Bridge Museum, Hackney City Farm, the Institute of Imagination, Craft Central, Wilton's Music Hall, Warwick University in collaboration with Indian Gond artists, and Rose Bruford College of Performance and Theatre.