Cabaret Mechanical Theatre have invited Stephen Guy to run his extremely successful two-day workshop exploring mechanisms and creating your own automata in Hastings in May 2023.
Click here for tickets and details for the next workshop in September 2023.
The workshop will be hosted in Rose Cottage, a fantastic new artists' studio and workshop space set up by Hastings Commons in the historic area of Hastings called Trinity Triangle or The America ground. Located in The Alley off Claremont with its own outdoor space, this is an inspirational setting for a creative weekend surrounded by intriguing and quirky independent cafés and shops. What's more you'll be able to have a stroll on the seafront that is only a 2 minute walk from Rose Cottage and Hastings station is a 7 minute walk so you won't need the car.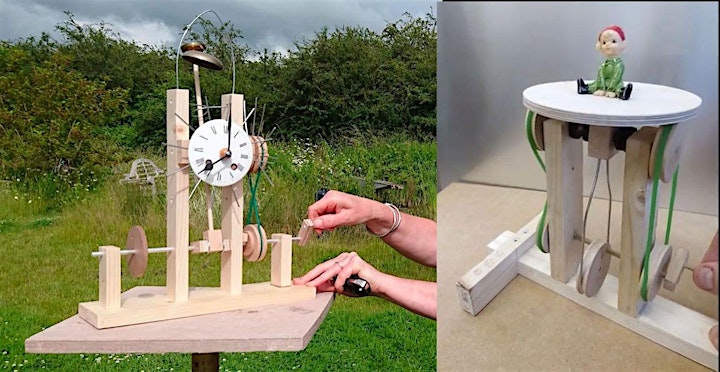 Steve will introduce his Fabricating Motion kit and guide you to accurately construct core mechanisms and show how they can be applied to create simple and playful moving sculptures. In a small group of 10 people Steve will go deeper into particular types of mechanisms and constructing methods with his curious automata examples that demonstrate how things work .
You will also experiment with materials, found objects and your own designs to discover how you can capture the creative potential of the mechanical movements. You are encouraged to test and play around with the mechanisms and materials to create and construct your own machine with help from Steve.
Automata Mechanism Examples
Tools & materials
You will have access to a selection of workshop tools such as a pillar drill, scroll saw and hand tools as well as a variety of construction materials and quirky found items.
The pre-made kit of wood and metal components, introduces a basic cam and crankshaft mechanism. This structure is the creative springboard to designing and constructing your own individual kinetic artwork or automaton. It can be hacked around in any way, including building up more complex mechanisms.
To add to the mix you can bring your preferred tools, materials and any objects that you enjoy.
Who is it for?
Suitable for all abilities subject to a basic competence in craftwork and using hand and powered tools, and being prepared to develop your own creative ideas. Please contact max@cabaret.co.uk if you have any questions.
Click here for tickets and details for the next workshop in September 2023.
Dates: Saturday 20 May and Sunday 21 May 2023
Time: 10am-5pm Saturday
10am-4pm Sunday
Cost: £395 including Fabricating Motion kit, construction materials, use of tools and plenty of refreshments.
Not included: Accommodation and meals.
Address: Rose Cottage Studio, The Alley, Claremont, Hastings TN34 1DT
Accommodation suggestions: Visit 1066 Country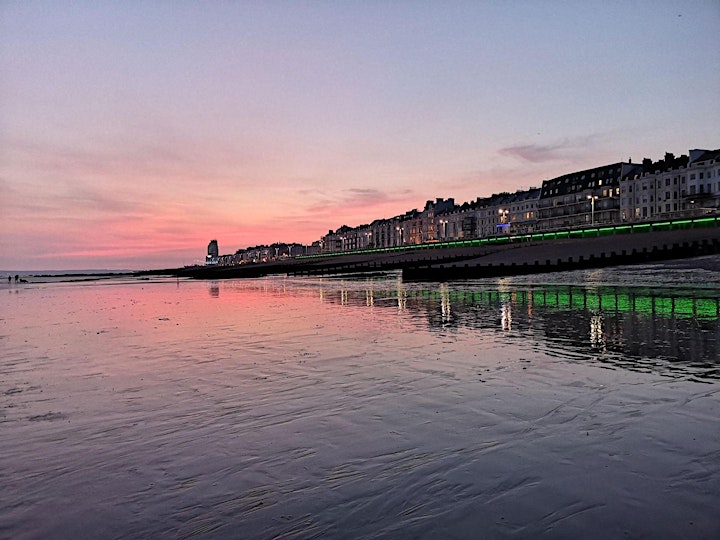 About Stephen Guy
Stephen is a designer-maker and artist specialising in mechanical art. He generally works as Fire the Inventor and runs workshops, events and produces educational resources, and builds interactive automata for exhibitions, science festivals and schools in the UK and around the world.
His creative process is bricolage and hands-on prototyping. Much of his time is spent hunting down curious objects, components and toys, which are categorised and stored as a library of resources. The creative process is about composition, about finding striking, funny or weird juxtapositions of objects, adapting and hacking them, and constructing mechanisms that heighten the visual impact of the sculpture.
His first introduction to automata and the world of mechanically driven entertainment was at Cabaret Mechanical Theatre when we were in Covent Garden from 1985 and has continued to collaborate with us since then.
Recent workshops and events have been run with Sligo Engineering Fair, West Dean College, Hauser & Wirth (Somerset), the Institute of Physics, Tower Bridge Museum, Hackney City Farm, the Institute of Imagination, Craft Central, Wilton's Music Hall, Warwick University in collaboration with Indian Gond artists, and Rose Bruford College of Performance and Theatre.