Join the team from Cabaret Mechanical Theatre for an online workshop creating automata using mechanisms, electronics and storytelling.
About this event
This practical experimental workshop is an online course for artists, makers and educators interested in combining programming electronics and crafting with cardboard, wood and wire.
We will be working with the BBC micro:bit – an affordable and accessible pocket-sized computer that can control lights and motors and respond to switches and sensors. We will be sharing ideas to construct and make, developing individual prototypes integrating a variety of mechanisms and materials.
The workshop will also provide opportunities to reflect on the ways that Cabaret Mechanical Theatre (CMT) automata artists use technologies like cam timers, microcontrollers and even pipe organ player rolls and bellows in their work.
You will be part of an online workshop community of makers with online visits to Cabaret Mechanical Theatre artists' studios, access to exclusive artist interviews and have the opportunity to discover and meet emerging international automata artists.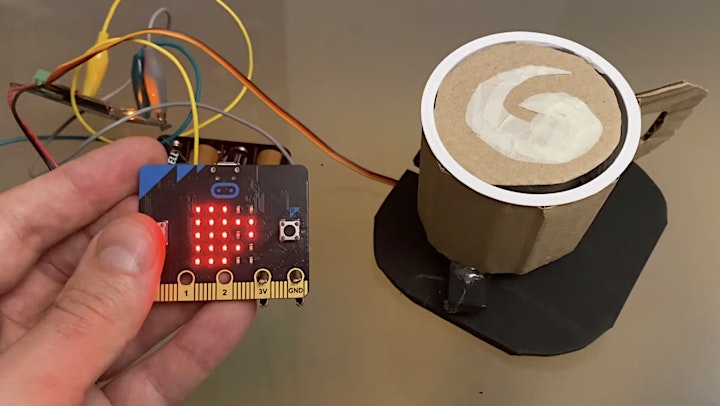 I appreciated a lot, having live artists and makers in the sessions, who are very inspiring. SP, Switzerland Dec 2020
As part of your registration you will receive by post a specially designed Computational Contraptions Global Workshop Kit before the sessions begin.
The kit includes:
BBC Micro:bit
Motor control shield for Micro:bit
Programmable servo motors
Relay and DC Motor
Electronics Prototyping Kit including LED lights, alligator clips, battery holder
Cardboard Cam Kit with How-To video link
Cranky Contraption Kit with How-To video link
Craft Materials Kit
Cabaret Mechanical Movement Handbook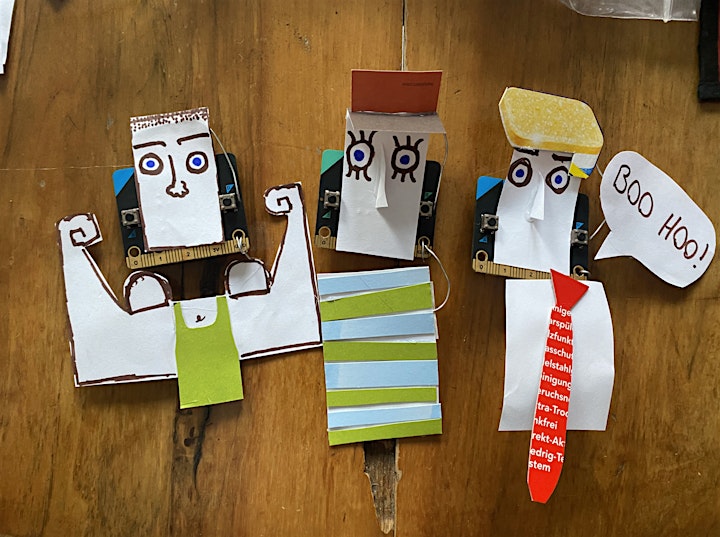 When
Wednesdays from 3 November to 8 December 2021
4-6 pm in UK – GMT
8-10am USA – PST
5-7pm Europe – CET
Who
This workshop is suitable for those who have had some experience building automata or those who have taken our first CMT Automata Tinkering Workshop
You want to go deeper and add new programmable elements to your contraptions
You are an educator who wants to inspire adults and children with computational science and STEAM activities
You are a practicing artist who wants to experiment with building mechanised kinetic sculptures and integrating microcontrollers into your work
You've experimented with arduino or micro:bit but want to develop a more artistic practice into your coding experiments
You are interested in engaging with a group of practitioners in different fields with different levels of experience
Equipment
a computer with a good internet connection (and the ability to connect a standard USB cable)
a place to work (kitchen table, workshop, garage)
the ability to procure a set of common household materials from a provided list
Kit components including a BBC micro:bit, prototyping materials and a copy of our book, Cabaret Mechanical Movement, will be mailed to you before the course of workshops commences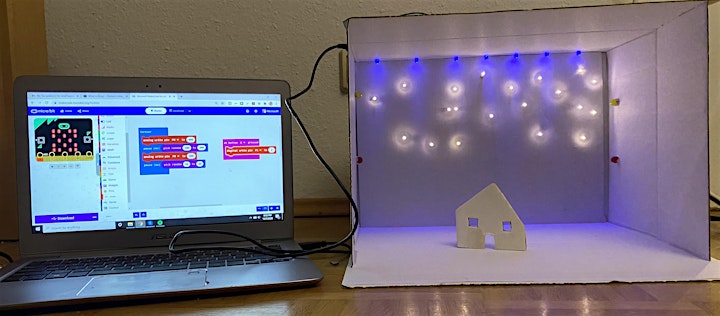 Course Outline
The workshop will be conducted in spoken English with audiovisual materials such as slides, examples and video. All classes will be held over Zoom.
The course is being delivered as a real-time class, where participants and facilitators will interact live. The maximum number of participants will be 24, to ensure a low facilitator to participant ratio. We will combine working as a group and in smaller break-out sessions so you will also have personalised attention and interaction.
The sessions are recorded for later viewing and a week-by-week online resource guide is available to all participants that documents each session with practical advice and tips. In between the weekly sessions we'll use an online forum to share our works-in-progress, ask questions and collaborate with one another.
This six week programme has been designed to explore how to combine art, computation and engineering. The workshops will be led by expert facilitator Ryan Jenkins from Wonderful Idea Co. and supported by a small team of international facilitators who will guide you through the introductory workshop and support you to develop your own ideas.
Before the start of the course, you will receive a package with the CMT Cardboard Cam Kit and the Cranky Contraptions Kit with an exclusive link to a How-To video. We recommend you explore these kits and build the two automata examples prior to starting the course to familiarise yourself with some basic mechanisms and techniques that we will be experimenting with throughout the six week sessions. As well your course materials will include exclusive recorded interviews with Tim Hunkin and Will Jackson that we will reference during the workshop.
Wednesday 3rd November – Week One
Welcome to the world of CMT automata and sharing examples of technology, engineering and art
Orientation for desktop layout for coding and construction over zoom (cameras and logistics) and setting up a tinkering workspace at home
Practical Session: Getting started with Micro:bit – block based coding and on-board lights and sound, integrating craft materials to build characters
Wednesday 10th November – Week Two
Practical Session: exploring motion connecting a servo motor to the Micro:bit and programming movement
Storytelling with servos and animating more complex characters with craft materials
Guest Artist Interview: inspiring examples and behind-the-scenes studio tour
Wednesday 17th November – Week Three
Practical Session: exploring interaction with homemade switches and sensors
Tips and tricks for adding digital components like motors and switches to automata projects
Guest Artist Interview: inspiring examples and behind-the-scenes studio tour
Wednesday 18th November – Week Four
Going deeper with the electronics kit – sharing how/where to find guides, ideas and information and joining a community of practice
Practical session: connecting to the real world, hooking up a relay and DC motor to power more robust kinetic machines
Wednesday 1st December – Week Five
Review of topics and brainstorming personal project ideas that combine materials and ideas from all previous sessions.
Practical session: moving from idea to an automata prototype
Guest Artist Interview: inspiring examples and behind-the-scenes studio tour
Wednesday 8th December – Week Six
Personal projects, questions, discussion and working time in small groups
Guest Artist Interview: inspiring examples and behind-the-scenes studio tour
Thank you for the time and effort you put into this course and I look forward to more!!! This has been a positive outcome of the pandemic! I doubt I would have ever had an opportunity to take a course through the Cabaret Mechanical Theater, but I so appreciate everyone spinning on a dime to make this happen. I'm hoping that even when the pandemic is over, this online learning opportunity continues. CH, USA Dec 2020
Price
Early Bird until Wednesday 15th September 2021 £475.00
Full Price until Wednesday 15th October 2021 £525.00
Registration closes 15 October 2021 to allow for materials to be sent to participants.
Tickets are available via EventBrite
We will be offering a limited number of partial scholarships for those in need of a fee reduction. We are especially interested in participants who come from non traditional backgrounds and/or who work with underrepresented audiences.
You can apply for a scholarship by emailing sarah@cabaret.co.uk and letting us know how much tuition support you would need with a short description of why you are interested in attending. We regret that we will not be able to offer a fee reduction to everyone but hope to pursue other funding options for future online/in-person sessions.
It was a wonderful series of classes guided by terrific people! KM, USA. Dec 2020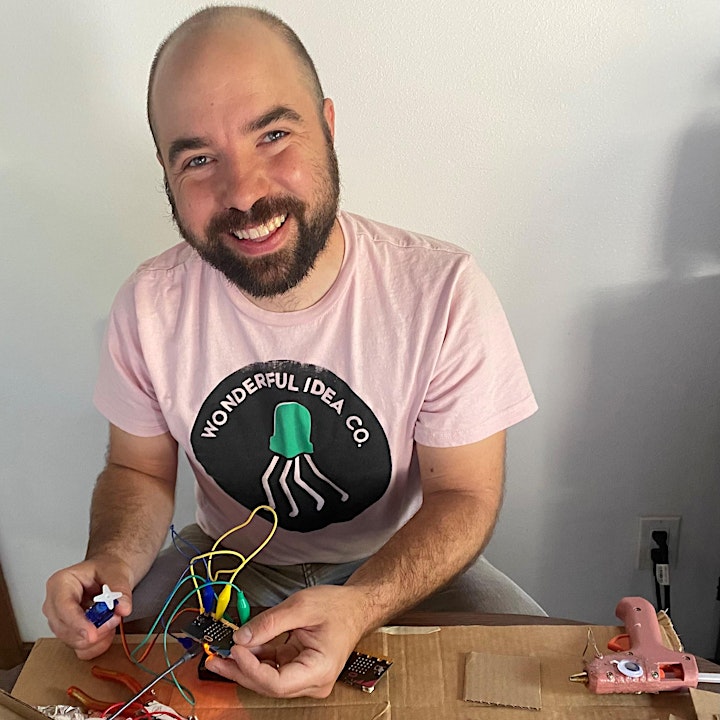 Ryan Jenkins – Wonderful Idea Co.
About our course facilitator Wonderful Idea Co:
Wonderful Idea Co. is a creative design studio founded in 2017 by Ryan Jenkins and Nicole Catrett that develops resources to support the exploration of art science and technology through making and tinkering. They have led workshops around the world for hundreds of creative educators.
Learning Online:
This workshop has been adapted to function in the current covid-19 moment of experimentation with online teaching and learning. While not the primary focus of the workshop, the session will be a chance for participants to see a model of hands-on tinkering workshop in a virtual setting.