Join other artists, makers & educators from all over the world to discover & share automata making ideas & mechanisms in an online workshop.
Tickets are available via Eventbrite
About this event
This six week programme has been designed to explore the combination of art and engineering. The workshops will be led by experienced facilitator Ryan Jenkins from Wonderful Idea Co. and supported by a small team of international educators who will guide you through a variety of mediums and practical elements building several automata prototypes.
Through the online workshops you will become part of a community of makers with virtual visits to Cabaret Mechanical Theatre artists' studios, access to exclusive artist interviews and opportunities to discover and meet emerging international automata artists.
As part of your registration you will receive by post a specially designed Automata Tinkering Global Workshop Kit before the sessions begin.
The kit will include:-
Automata Tinkering Kit
Cardboard Automata Kit
Cranky Contraption Kit
Cabaret Mechanical Movement handbook
Thank you! The structure, content, and community were inspiring. EP, Participant from Czech Feb 2021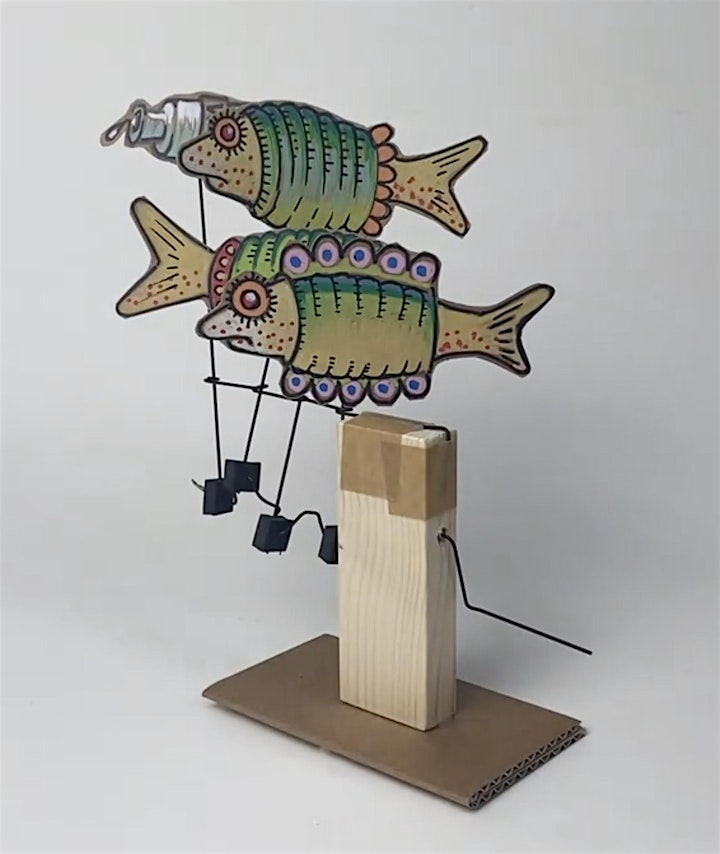 Fish in Frocks by Loulou Cousin. Image Esme Fisher. A Town Explores A Book Festival 2021.
WHEN
Thursdays from 16 September to 21 October 2021
4-6 pm UK-BST,
8-10am PST,
5-7pm in Europe CEST
WHO
This workshop is suitable for all abilities and experience levels if you are comfortable developing your own creative ideas and experimenting with us.
It is perfect for you if:
You want to find out more about automata, who makes them and how they are built
You are an educator who wants to inspire adults and children with tinkering or STEAM (science, technology, engineering, arts & maths) activities
You are a practicing artist who wants to experiment with building kinetic sculptures
You work on personal projects in your spare time and want to add a new medium for expression
You are interested in engaging with a group of practitioners in different fields
We generally limit the age to 16 years old+ though exceptions can be made where appropriate
EQUIPMENT
You will need:
a computer with a good internet connection
a place to work (kitchen table, workshop, garage)
the ability to procure a set of common household materials from a provided list
Thank you so much!! Please keep on doing what you are doing and inspiring people to make Automata. It was a great workshop, and it was nice to be able to participate from Germany. EJ, participant from Germany Feb 2021
Violet by Erica Smith. Image Esme Fisher. A Town Explores A Book Festival 2021.
Course Outline
The workshop will be conducted in spoken English with audiovisual materials such as slides, examples and video. All classes will be held over Zoom.
The course is being delivered as a real-time class, where participants and facilitators will interact live. The maximum number of participants will be 22, to ensure a low facilitator to participant ratio. We will combine working as a group and in smaller break-out sessions so you will also have personalised attention and interaction.
The sessions are recorded for later viewing and a week by week online resource is available to all participants that documents each session with practical advice and tips.
Workshops content
Thursday 16 September – Week One
Welcome and Introductions – What is automata? – History of CMT
Practical Session: Cranky Contraptions
Thursday 23 September – Week Two
Cams and Cranks – Engineering Principles – Motions and Mechanisms
Practical Session with guest artist Stephen Guy: Cardboard Automata
Thursday 30 September – Week Three
Artist Studio Tour – Testing and Troubleshooting – Linkages
Practical Session with Sarah Alexander: Introducing CMT's Automata Tinkering Kit
Thursday 7 October – Week Four
Artist Interview – Simple Circuits – Motors and Switches
Practical Session: Electromechanical Experiments
Thursday 14 October – Week Five
Design Process – Expanded Materials – Emerging Artist Spotlight
Practical Session: Personal Automata Exploration
Thursday 21 October – Week Six
Experimental Extensions – Artist Interview – Reflection and Sharing – Taking it Further
Practical Session: Personal Automata Exploration.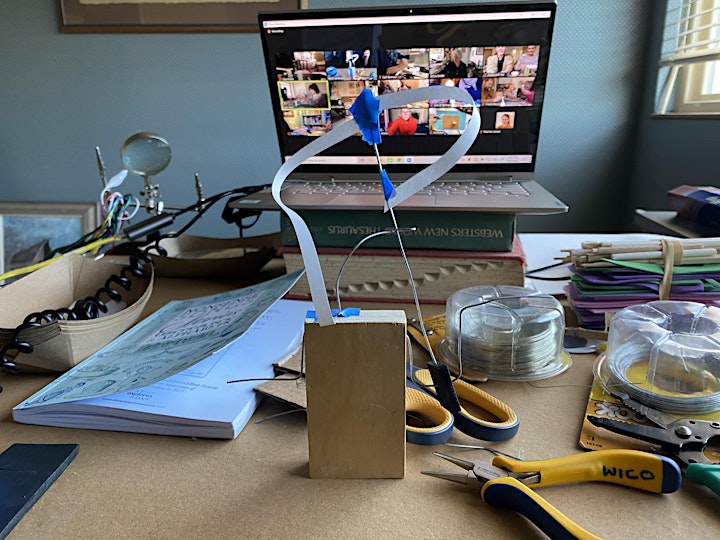 About our course facilitator Wonderful Idea Co:
Wonderful Idea Co. is a creative design studio founded in 2017 by Ryan Jenkins and Nicole Catrett that develops resources to support the exploration of art science and technology through making and tinkering. They have led workshops around the world for hundreds of creative educators.
Learning Online:
This workshop has been adapted to function in the current covid-19 moment of experimentation with online teaching and learning. While not the primary focus of the workshop, the session will be a chance for participants to see a model of hands-on tinkering workshop in a virtual setting.
Price:
Early Bird until 5 July 2021 £375.00
Full Price until 30 August 2021 £425.00
Purchase tickets from Eventbrite
Registration closes 30 August 2021 to allow for materials to be sent to participants.
We will be offering a limited number of partial scholarships for those in need of a fee reduction. We are especially interested in participants who come from non traditional backgrounds and/or who work with underrepresented audiences.
You can apply for a scholarship by emailing sarah@cabaret.co.uk and letting us know how much tuition support you would need with a short description of why you are interested in attending. We regret that we will not be able to offer a fee reduction to everyone but hope to pursue other funding options for future online/in-person sessions.
Ryan Jenkins, Wonderful Idea Co.